Julie Sebby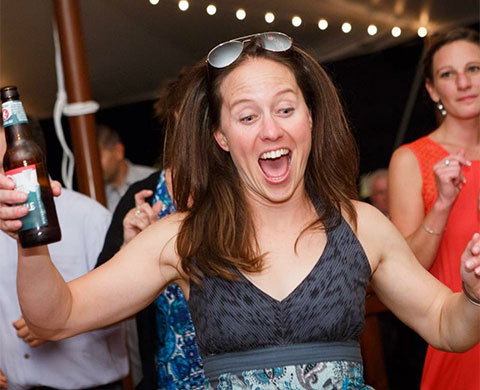 I debated whether or not to post this picture. You might call it unprofessional, but this is the happiest I've ever seen myself in a photo. Every time I look at it, I ask myself — Is that how I'm living my life? The answer should always be yes. ,
The Short Version — I am fortunate in that it didn't take much time in the workforce to figure out I LOVE playing with data. It really wasn't a surprise though. As a 16-year-old, I built a spreadsheet with one record for every university and college in TX and LA with columns of metrics to rank them and help me decide where to go to school.
In the last 15 years, I've worked in a variety of data-oriented spaces including but not limited to building financial models, Lean, master data management, business analysis, dashboarding, reporting, data quality management, analytics, and data science. I really found my niche when I started working with Spotfire just as I was leaving Shell in 2013. I started blogging about Spotfire with Ruths.ai in 2016 and kept doing it after returning to SM Energy. Blogging and writing make me better at what I do. I'm also happy knowing I can help other people with things I struggled with.
I've lived and worked in Houston, Denver and now Whitefish, MT (almost Canada). I started with Shell, moved to WPX, then SM Energy, then Ruths.ai, and finally back to SM Energy (great company). I finished my Masters in Analytics in Denver at DU. I am currently part of the SM Energy Advanced Analytics and Emerging Technology team focusing on Spotfire, Alteryx, and make analytics more social within the company.

Why I Partnered With Jacob — I partnered with Jacob for 2 reasons. First, he has a skill set that is different, yet complimentary to mine. His skills are those that are about to be in high demand for oil and gas. He knows about NoSQL databases, building web apps, web scraping, and working with APIs. Additionally, Jacob is one of those people who just figures stuff out…and fast. Do you know those people? They don't know how to write Python code at all but a week later they are giving you pointers. Here's an example…
Just before I returned to SM Energy, a company reached out to me for Spotfire admin and Postgres support. They needed someone to set up their Spotfire environment, including stats server, web player, and a few pieces of custom work, as well as put a Postgres database into place and optimize it. I couldn't do the work, and I didn't have Postgres experience. Now, Jacob and I built a few Spotfire templates together, but he had never administrated Spotfire before. I was confident he could do the work with me occasionally translating TIBCO documentation. And he did it…really, really well. All environments were up and running when the client needed them and Jacob worked small miracles every day. He's talented.
Jacob Bennett
There will eventually be a picture here of me and the first skis I ever owned, which fits in perfectly with the theme of happy pictures.
I've been playing with computers since the first mac my family got in the early 90s. Since then computers have always found their way into whatever task I was working on. In college, while majoring in Chemistry, I did research with groups in computational chemistry and helped run and maintain tooling for molecular simulations. After school I moved to Montana to design smart control systems for growing algae during frigid winters.
Since then I've freelanced on a variety of data and e-commerce projects, many of which Julie and I have teamed up for. These projects have ranged from scraping oil and gas APIs and importing them into Spotfire Templates, to setting up PostgreSQL databases and optimizing queries with billions of midstream data points.
I'll be writing a lot about Python, databases (relational, nosql, and graph! oh my!), data collecting and munging, and other data science tasks. I'm looking forward to continue working with Julie and sharing lots of data related knowledge with you all!