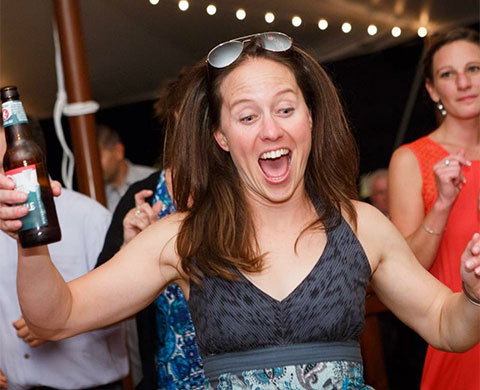 Hi! I'm Julie Sebby. Some might call this picture unprofessional, but this is the happiest I've ever seen myself in a photo. Every time I look at it, I ask myself — Is that how I'm living my life? The answer should always be yes.
A Little History (The Shortish Version)
I grew up in south-east Texas between Houston and Austin on 120 acres riding horses and playing with my dogs. I graduated high school in a class of 16 and went to college at Stephen F. Austin State University. I really wanted to go to rodeo college but Dad so no. Probably for the better. I graduated in a recession and had to gate crash the Texas A&M and University of Houston career fairs to get hired. I had 3 job offers. Two of them were for jobs working in call centers for 29k a year. The other job was working with Royal Dutch Shell. I took that job….
It didn't take much time in the workforce to figure out I LOVE playing with data. It really wasn't a surprise though. I like to organize things. This was before unstructured data. Spreadsheets make my brain happy in a really weird way.
I've worked in a variety of data-oriented spaces including but not limited to building financial models, Lean projects, master data management, business analysis, dashboarding, reporting, data quality management, analytics, and data science. I really found my niche when I started working with Spotfire just as I was leaving Shell in 2013. I did a brief stint with WPX Energy before SM Energy spirited me away thanks to the power of LinkedIn.
Fun fact: My second interview with SM Energy was in a hall closet because a tornado warning hit halfway thru the interview.
Second fun fact: I had to convince the hiring manager working with Spotfire was a full time job.
I left SM Energy to move to Montana, although I still worked for them as a contractor via Ruths.ai (now Petro.ai). Thanks to Petro.ai, I started blogging about Spotfire in 2016 and kept doing it after returning to SM Energy for a role in their Analytics team. I also added Alteryx to my tool kit and finished a master's degree in Business Analytics from Denver University in there somewhere.
Blogging and writing make me better at what I do. You don't really understand something until you can easily and clearly explain it to other people. Not only does it make me happy to know I am helping other people, but I can't tell you how often I reference my own work. Did I write a blog post about this? Surely, I did. Let's ask the Internet. Yep, sure did 2 years go. That's how it goes.
Third fun fact: I was terrified I wouldn't be able to think of anything to write about.
Fourth fun fact: I am deeply embarrassed by my first year of blog posts.
I've lived and worked in Houston, Denver, Whitefish (MT) and soon Sedona (AZ). Currently, I work in the SM Energy Advanced Analytics and Emerging Technology team focusing on Spotfire, Alteryx, and making analytics more social within the company. I do challenging work with really great people who also yell at their computers and have ridiculous OCD tendencies.
The Fun Stuff
On the weekends and after work you'll find me on my mountain bike. I am a certified PMBIA mountain bike instructor (level 1). So, you could say that I just love teaching. I do a lot of volunteer coaching with the local mountain bike club (FAMB).
These two dumb-dumbs (affectionate term) are the best part of my life. The furry one…sorry, the dog, is an Australian Cattle Dog that is truly my spirit animal. His name is Cooper or Tiny Demon or just The Dingo. He's very smart and food motivated and also will not leave the couch for a walk before 10am. But really, I moved to Montana for the other furry one. He builds all the bike ramps and can reach the high shelf (I'm 5'2′). He does front end web development for a company called Red Van Workshop. If you've ever clicked around websites like Patagonia, Nixon, Osprey, and Asics, you've touched his work.
That's the path I've walked. That's my shortish story. If you want to connect, please connect or follow me on LinkedIn. You can also subscribe to my YouTube channel.
Final fun fact: My favorite cocktail is an Old Fashioned with Buffalo Trace whiskey and the Pooter bitters from Crude Bitters in Raleigh, NC. I highly recommend their sampler pack. #notsponsored #ijustlikeit

Thanks for reading my bio. And, if you are still here, check out my series on Spotfire property controls.